By Sandra Curtis, Director of Innovative Projects
Dignity Health, one of the leading healthcare providers in the Western U.S., (California, Arizona and Nevada) stepped out as a leader in The Last Plastic Straw movement by recently eliminating plastic straws and stir sticks from all the cafeterias in its 39-hospital system. Dignity Health's last straw moment came when Shelby O'Neil, a 17-year-old high school student, emailed CEO of Dignity Health Lloyd Dean, and prompted him into action.
Read more about Shelby O'Neil and Jr Ocean Guardians.
Remarkably, within a month, Dignity eliminated plastic straws and stir sticks from all the cafeterias in each of their hospitals. Plastic straws continue to be used for patient care while the organization studies compostable or biodegradable alternatives. This action accounts for a reduction of about 5,500 straws daily or about 2 million plastic straws per year.
How did this happen so quickly? When Dean decided to act on Shelby's straw request, he turned to Sister Mary Ellen Leciejewski, Director of Ecology, to implement a plan. Dignity and Leciejewski have been active in environmental stewardship for many years. A founding sponsor of Health Care without Harm's (HCWH) Healthier Hospitals Initiative, the health care provider is a prominent member of Practice Green Health.
Among her initiatives in sustainability, Leciejewski has advocated for safer chemical use. She recently supported a report published by CPA entitled Chemical Footprint of Products Commonly Used in Pediatric Departments. Her efforts in reducing the environmental and toxic chemical exposure in the Dignity Health system set her apart as a recognized leader.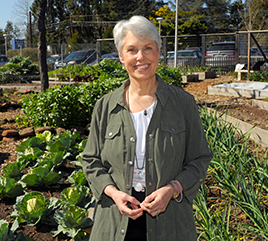 Sister Mary Ellen Leciejewski, Director of Ecology, in the 9,000-sq. ft. organic garden on the Dominican Hospital grounds.
A high school French teacher for 20 years, Leciejewski went on to earn her master's in Ecology and became Dignity Health's Director of Ecology as well as at two hospitals sponsored by her order, the Adrian Dominican Sisters. She has led strategic, system-wide and facility specific plans to ensure that business operations support sustainability, focusing on efficient use of resources to reduce operating costs. Some of the special projects she's overseen include mercury elimination, energy retrofits, and joining the Climate Registry to measure the hospitals greenhouse gas emissions. Along with a focus on generating less waste, she has developed tools to measure the system's waste stream, a chemical reduction program, more efficient energy use, and providing healthy food. She was instrumental in establishing a 9,000-sq. ft. organic garden on the Dominican Hospital grounds.
Leciejewski's energy and leadership have persuaded companies who want to do business with Dignity to "design products and processes that are less toxic, cause less waste, and are healthier for their patients, their families, and the communities they serve." Her efforts at reducing waste include instituting recycling, especially for blue plastic wraps and IV bags.
Dignity and Plastic Pollution Coalition have been connected since CPA's BizNGO conference in Dec. of 2016, with PPC providing short articles on health care concerns of the toxic chemicals in plastics for the Dignity newsletter. Following Dean's directive, Leciejewski stepped into action, pulling together a staff group to review how to implement the "No Plastic Straws" policy. She also reached out to PPC in search of resources in October 2017 which led to her connection to Jackie Nuñez, founder of The Last Plastic Straw. Through Nuñez, Leciejewski learned about Linda Booker's film, Straws and was able to get quotes on paper straws from Aardvark Paper Drinking Straws as an alternative to plastic.
It took a series of meetings with the hospital staff to make the change happen, getting the supply chain that included food service and the sustainability team on board. Still, the process moved very fast and was implemented on Dec. 1, 2017.
Under Leciejewski's leadership, Dignity Healthy is currently exploring what to provide for patients. While plastic is more durable, paper is offered to those patients who want them.
Dignity Health eliminating plastic straws shows how youth action coupled with effective and passionate leadership can result in positive change for the health of humans, animals, waterways and oceans, and the environment.
Take the pledge to refuse plastic straws.